Product Description
Rubber Airbags for Discharging and Launching of Ships

Rubber Airbags for Discharging and Launching of Ships
Marine rubber airbag adopts a new integrated winding production technology:
1. The new technology with two more layers of the capsule head than the capsule body enhances the use strength of the balloon, and its air tightness and safety are also significantly improved;
2. The professional rubber formula greatly extends the service time of airbag, which is twice as long as the life of ordinary airbag;
3. Using regular nylon cord fabric, high pressure explosion-proof performance is safe and reliable.
Marine rubber pneumatic high pressure air bag USES natural mixed rubber and nylon cord as raw material, USES compressed air as filling material, and USES air compression deformation to realize ship discharging and lifting movement.
The use of airbag can save the cost of shipyards in building docks and launching ways. It has the advantages of convenient, safe and repeated use, and can effectively deal with launching with harsh terrain.
Airbag application field
Upper and lower water
After more than 20 years of practice, launching ships have developed from flat boats weighing dozens of tons to large ships weighing tens of tons. Practice has proved that the technology of airbag upstream and downstream is safe and reliable.
At present, this technology has been recognized by shipbuilding industry and port construction industry at home and abroad, and airbag launching technology has been promoted in the United States, Europe and Southeast Asia and other countries.
Heavy handling
At present, Marine airbag is widely used in caisson jacking, transport, launching and other fields in port construction.
Our famous "Nanhai No. 1" sunken ship salvage project is to use Marine airbags to complete the landing of caisson and move into the "Crystal Palace" work.
Buoyancy aid salvage
Marine airbag has been widely used in the rescue of stranded ships and other areas of floating salvage because of its high buoyancy and strong load-bearing capacity.
Maintenance of Marine Airbags
1. When the air bag is not in use for a long time, it should be washed and dried, filled with talcum powder and coated externally.
Airbag maintenance should be carried out in a dry, ventilated room away from the light source.
Airbags should be stored to avoid stretching, compression and deformation.
2. Keep the air bag away from heat source.
3. The air bag shall not be in contact with acids, bases, fats and organic solvents.
Repair of Marine Airbags
The damage forms of marine airbags can be generally divided into longitudinal cracks (cracks extending along the length of airbags), transverse cracks (cracks extending along the circumference), and nail holes (including disc-shaped damages with a diameter of less than 10 cm).
Marine Airbag Production Process:
1.Raw Material Preparation
2.Rolling Out for Airbag Body
3.Moulding two ends of the airbags
4.Air-inflation
5.Stretch-wrap, Integrated Cross Intertwine the Synthetic Cord Reinforced Rubber Layers
6. Vulcanizing
7.Fittings Assembling
8.Air-tightness Test
9.Surface Protection
10.QC Test as per GB/T3795-1996 and ISO 14409 International Standerd / Third-party Inspection
11.Packing & Delivery
If you are interested in our products or have any questions, please feel free to contact us for more details.
Deyuan Marine has been waiting for your contact.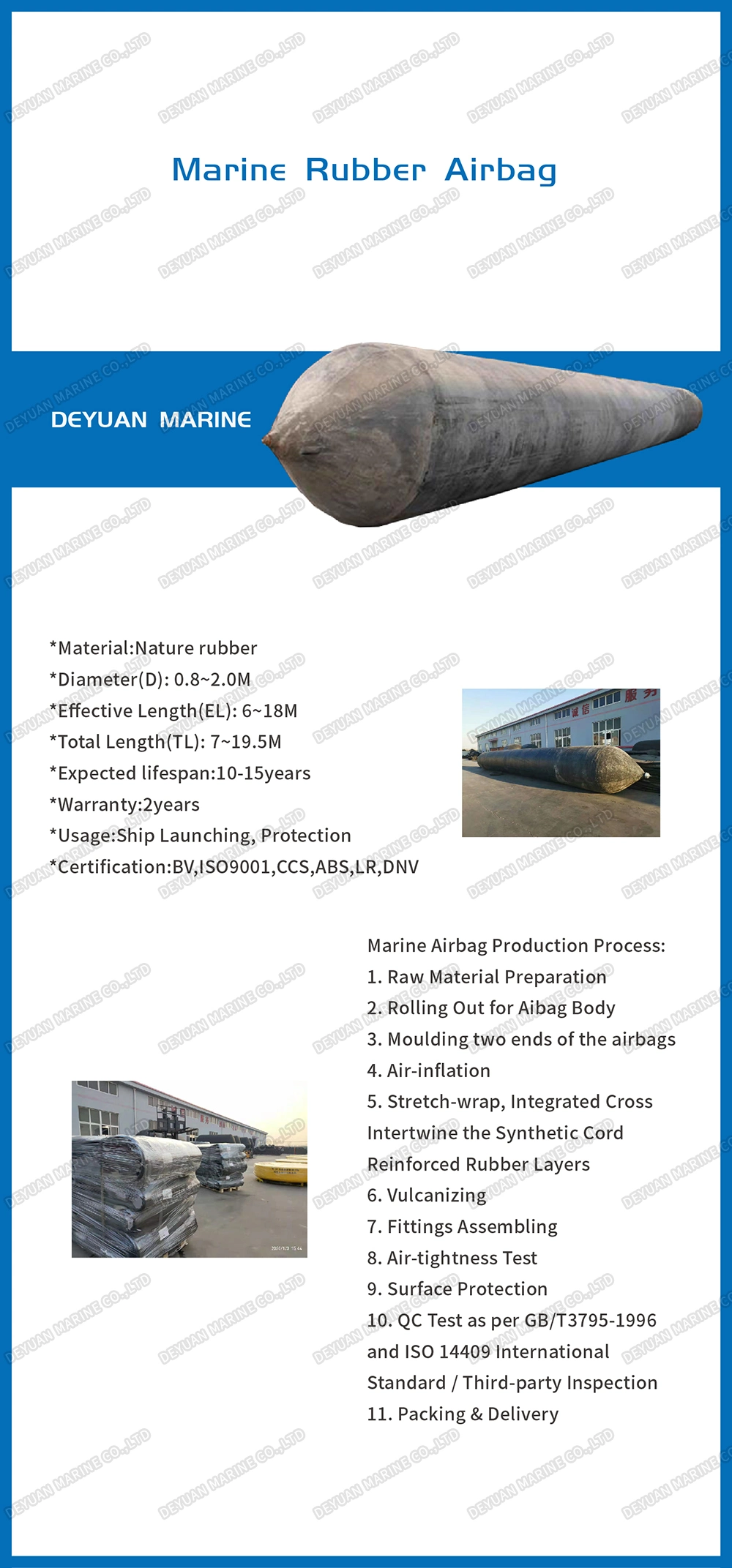 Technical Parameter of Rubber Airbags